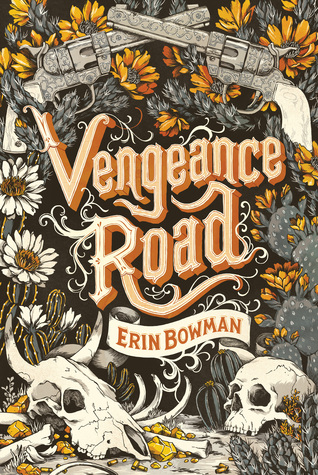 Published: September 1st, 2015
Publisher: HMH Books for Young Readers
Pages: 336
Copy: Edelweiss
Summary: Goodreads
When Kate Thompson's father is killed by the notorious Rose Riders for a mysterious journal that reveals the secret location of a gold mine, the eighteen-year-old disguises herself as a boy and takes to the gritty plains looking for answers and justice. What she finds are devious strangers, dust storms, and a pair of brothers who refuse to quit riding in her shadow. But as Kate gets closer to the secrets about her family, she gets closer to the truth about herself and must decide if there's room for love in a heart so full of hate.
In the spirit of
True Grit
, the cutthroat days of the Wild West come to life for a new generation.
What to tell you about Vengeance Road? This was an interesting historical novel set in the old west that is loosely based on an old western legend about a lost gold mine. Ms Bowman has obviously studied the history of the period and knows the location well, but where the book fell short for me was the characters, or the main character in particular.
For some reason I didn't really connect with Kate. She was fairly well written and her naivete about some things did ring true, but ..... I did enjoy Will and Jesse however. In fact I adored Will's dip spitting, somewhat tarnished view of life. The romance? Slow. Very slow, which was actually quite nice and entirely believable given the characters and the circumstances. The way things play out may surprise you. There was a big reveal towards the end that I don't think many will see coming, I certainly didn't. I didn't find the book very suspenseful though. For me it just sort of ambled along at a steady pace and the outcome was never really in doubt, and other than my strange almost dislike of Kate, I really quite enjoyed the story itself.
In the end it was fun but not outstanding and I'll be really interested to hear what you all think of it.