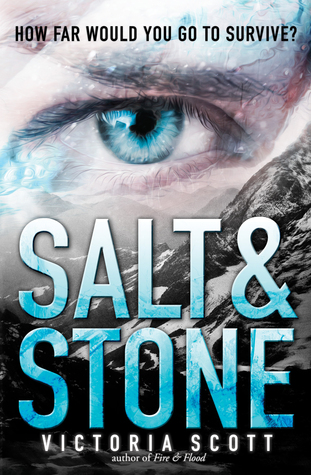 Published: February, 2015
Publisher: Scholastic Press
Pages: 320
Copy: Library
Summary: Goodreads
What would you do to save someone you love? What about risking...everything?
In
Fire & Flood
, Tella Holloway faced a dangerous trek through the jungle and a terrifying march across the desert, all to remain a Contender in the Brimstone Bleed for a chance at obtaining the Cure for her brother. She can't stop—and in
Salt & Stone
, Tella will have to face the unseen dangers of the ocean, the breathless cold of a mountain, and the twisted new rules in the race.
But what if the danger is deeper than that? How do you know who to trust when everyone's keeping secrets? What do you do when the person you've relied on most suddenly isn't there for support? How do you weigh one life against another?
The race is coming to an end, and Tella is running out of time, resources, and strength. At the beginning of the race there were 122 Contenders. As Tella and her remaining friends start the fourth and final part of the race, just forty-one are left...and only one can win.
Victoria Scott's stunning thriller will leave readers' hearts racing!
Review:
Wow. What a great follow-up to Fire and Flood. This story just never gives up. Think a mish-mash of Survivor, The Amazing Race and the nasty behind the scenes finagling of Maze Runner, Divergent and The Testing and you might begin to get an inkling of what this one is like. Characters are dropping like flies. I loved it.
This series is incredibly fast paced. The characters are supremely diverse and interesting, some good, some bad, some awful. They get on your nerves and then redeem themselves in surprising ways.
Nasty, nasty things happen all the time, and just occasionally there is a ray of sunshine. Just enough to let you smile and keep reading. The romance is rocky and sweet.
And the pacing Never. Lets. Up.
Buckle up your seat belt for a wild ride, but make sure you read Fire and Flood first.