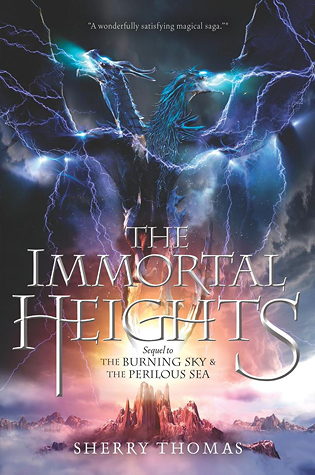 Published: October 15th, 2016
Publisher:
Balzer + Bray
Pages: 432
Copy: Edelweiss
Summary: Goodreads
I
n a pursuit that has spanned continents, Iolanthe, Titus, and their friends have always managed to remain one step ahead of the forces of Atlantis. But now the Bane, the monstrous tyrant who bestrides the entire mage world, has issued his ultimatum: Titus must hand over Iolanthe, or watch as his entire realm is destroyed in a deadly rampage. Running out of time and options, Iolanthe and Titus must act decisively to deliver a final blow to the Bane, ending his reign of terror for good.
However, getting to the Bane means accomplishing the impossible—finding a way to infiltrate his crypt in the deepest recesses of the most ferociously guarded fortress in Atlantis. And everything is only made more difficult when new prophecies come to light, foretelling a doomed effort....
Iolanthe and Titus will put their love and their lives on the line. But will it be enough?
With
The Immortal Heights
, Sherry Thomas brings the acclaimed Elemental Trilogy to its breathtaking conclusion.
Short Review:
First thing to say here is that if you haven't been reading this trilogy - WHY NOT! It's exciting, adventurous, full of action and sooo romantic. If you haven't started it yet you are in luck. You can read all three of them one after the other, and since each book follows directly on from the last (only a few hours difference) this is the best way to read them.
The characters feel real and it's so easy to become invested in what happens to them. I almost found myself getting mad at Iolanthe and Titus because they are so determined to save each other at their own expense.
The story is full of excitement, magic carpets, Atlantean evil-doers, suspense, mystery and romance and is really very cleverly written. I completely fell in love with the series and was very happy with the way everything was tied up in this last installment. It's actually really hard to review without giving away major plot twists, so I'll just finish by saying READ IT.